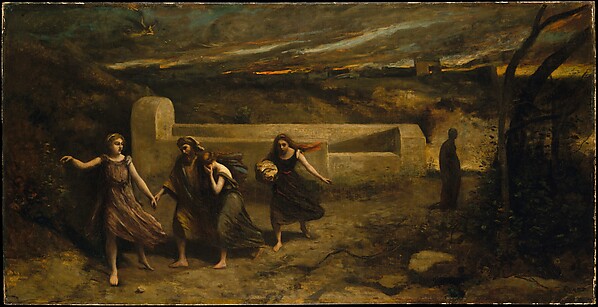 The Burning of Sodom by Corot
Of course the story included a demand for sex. But what's the point of the story? Was Sodom destroyed for the voiced intent to have sex with Lot's guests?
Can you imagine that scene at Lot's house? He tries to fend off gangsters who threaten him so they can rape his guests?
Ok. So maybe I'm reading in some contemporary feelings and ideas about morality. So be it. Isn't it even a little bit plausible that the story aims to provoke disgust in the reader? Sure the Sodom story is about sex but as most clinicians will tell you rape isn't just about sex—it's also about violence, control, and exploitation. And rape is disgusting.
Times have changed. A more flexible group of Christian Evangelicals has emerged—those who respect the biblical texts but don't ignore science and reason. Still others look for ethical principles that transcend ancient tribal cultures.
Some embrace a loving God and seek ways to love others. And some will choose their words carefully so they can show hospitality rather than rejection. Kindness rather than hatred.
It doesn't mean there are no rules. It means the Sabbath was made for man. And woman. Rest becomes a principle. And being guided by love, compassion, humility, gratitude, and other virtues allows people to embrace those in pain and stand against those who would exploit, damage, and harm the neighbors in one's life.